How To Decorate Your Home For Autumn
30 Sep 2018
How to Decorate Your Home For Autumn
By Guest Blogger & Interior Designer Wioleta Kelly.
With the launch of my new Interior Decorating Course for the Shabby School , I thought i would give you a little taster by showing you a few simple things to help change the decor for the coming season.
Did you know that you can never overdo decorating your home with textures? The more textures, the better!
We discuss this is great detail on the course. See FREE previews
They will instantly make your pad feel cozy, warm and inviting. The texture is the thing that makes a room pop and gives it a WOW-factor! Textures are especially important in our homes during Autumn. They are perfect for long, dark and cold evenings that are awaiting us. They have a power of making your home look warm, cozy and inviting. And isn't it all that Autumn is all about?
Here are a few of my favorite ways of making your home cozy this fall.
-Get a few textured cushions in warm colors. Mustard, green and orange will be perfect this Autumn. Search for the velvet, wool, and fur ones. H&M Home has some really lovely cushion covers that will only cost a fraction of price of the filled cushion, so it's an inexpensive way of adding a new pop of color to your home.
Have a look at my diagram. Three cushions on a sofa can add so much to your room!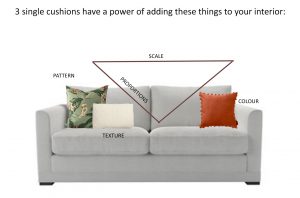 -Plants are a great way to introduce textures to your space and I cannot recommend them highly enough. If you are not a big fan of them, artificial plants are done so well these days, that no one will ever know that these aren't real. If you like the real deal, heathers, ivy and even something as simple as a few branches cut from a tree would be ideal this season.
-Faux sheepskin is inexpensive, it looks great and it will add an extra texture to any space. You can also buy it in many different colors to suit your rooms color scheme. I use mine just outside the stove to protect the floor from the ashes and that's enough to instantly warm up the room, but you can use yours in many different ways. On a bench in a dining room, on a sofa, on a bed…
– If you truly want to relax in the evening, switch off the ceiling lamp and turn on all the table and floor lamps. It's also a great tip if you have friends calling over and you want to make your home look warm and inviting. They will be so comfortable they will never want to leave!
Did you know that you should have at least three different sources of light on three different levels in every room? Ceiling lamp itself is never enough and the Autumn season is the best time to fix this problem. Think table lamp on the lowest level, then wall lamps and floor lamps on a higher level and of course ceiling light on the highest point in a room. The Range has a great selection of lamps that will suit any pocket.  But don't stop there. Pick a few strings of battery-operated fairy lights and scented candles. You will be warm, cozy and comfortable!
WIOLETA